11.12.2013
Finally: Data Dealer Closed Beta!
It wasn't easy, but it is done. The beta version of Data Dealer is...online! Yeah.
It's taken us almost a year of hard work, and it's finally ready. It wasn't easy, but it is done: Following the rather decent international response to our English demo (released May 2013) and our successful Kickstarter campaign during June, we are proud to present a first Beta of the full version of Data Dealer! Hooray.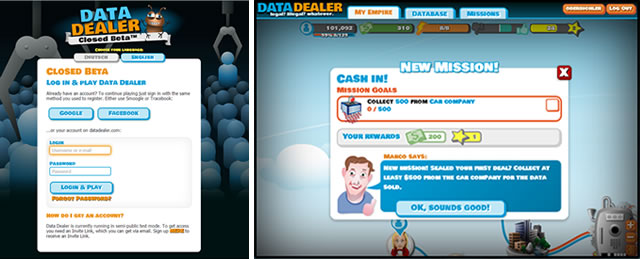 For now the game will run in a semi-public test mode – accessible only to limited number of people. As soon as we feel everything's running smoothly we'll open the game to the world. Until then, you will need an Invite Link to gain access.
We will continue working on Data Dealer in Beta mode, but decided that we no longer want to deprive you of experiencing the current state of the game – and look forward to your support during the next phase!
Here's some background info on the beta, including: What's new? How can I get an Invite Link? And a short FAQ.

comments powered by

Disqus