26.06.2013
PRISM as a Game!
[UPDATE] If you had access to all the same data as Edward Snowden, what would you do with it? Ever wanted to run your own Smoogle & Tracebook, track your users & pass it over to some governmental agency? Now you can.
Data Dealer is a game that lets you play God with other people's data. Become Larry Page, Mark Zuckerberg, or even Edward Snowden, as you control the flow of data-- and the price tag that comes with it. And decide for yourself whether they´re heroes or traitors!
For the last two years we´ve been working hard on Data Dealer, a browser game about collecting, processing and selling personal data. For example it looks like that: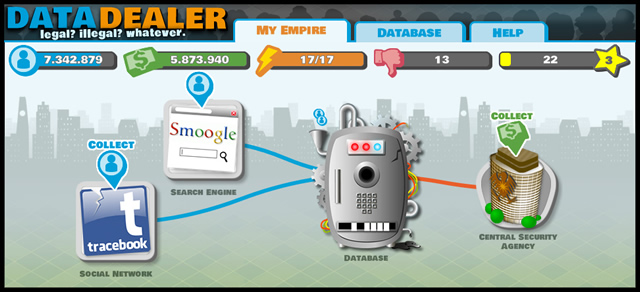 Note: Any similarities with people alive, other authorities or real world incidents are purely accidental and not intended.
Your mission: Create businesses and online ventures of all kinds, build up your data empire & collect millions of detailed personal profiles. Add some data delicaries from underground sources and share it with other companies or with the government.

Experience the power of having access to global info just like the NSA! Every dirty detail counts: Turn your database into a money machine. Even the tiniest details could be worth their weight in gold: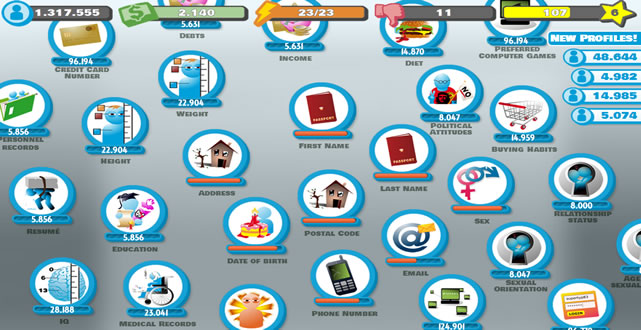 Privacy? Screw that. Turn the tables! Become a data dealer and get all the dirty details on your friends, neighbors and the rest of the world. Legal? Illegal? Whatever.
Check out the video trailer, play the demo or like us on your social network of trust:
By the way: Data Dealer has been created by a small team mainly from Vienna, Austria. It´s a nonprofit project and published under CC. The English demo was released a few days before the NSA/PRISM thing has been revealed. What a coincidence! Read more about our project here. Or watch this TEDxVienna talk, where one of the creators spoke about health insurance companies using "self tracking" data, data brokers like Acxiom or Lexis Nexis Risk Solutions, and about the development of Data Dealer.
P.S. Great job, Ed!
comments powered by

Disqus