Data Dealer Closed Beta
Data Dealer, the bitingly clever game on personal data, surveillance & privacy:
Beta version is online! Yeah.
It's taken us almost a year of hard work, and it's finally ready. Following the rather decent international response to our English demo (released May 2013) and our successful Kickstarter campaign during June and July, we are proud to present a first Beta of the full version of Data Dealer. Hooray!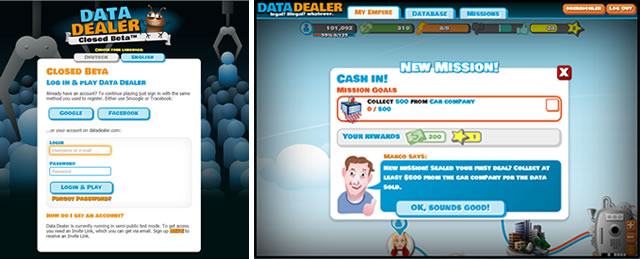 We will continue working on Data Dealer in Beta mode, but decided we no longer want to deprive you of experiencing the current state of the game – and look forward to your support during the next phase!
Closed Beta: What's that? How do I gain access?
For now the game will run in a semi-public test mode – accessible only to a limited number of people. To gain access you need an Invite Link, which you can get from us via email. We'll do this step by step and keep tight surveillance (TM) on how our game and server handle the load. As soon as we feel everything's running smoothly we'll open the game to the world.
Everyone who supported our Kickstarter campaign or signed up for our updates should either already have an Invite Link in their inbox, or it will arrive shortly. Please have patience, we're not forgetting anyone! If you're in neither of these two groups, you can sign up for an Invite Link in the box to the right.
Data Dealer Closed Beta: What's new?
This is not a demo anymore! The beta version is a full-blown online game, still playable for free via your browser. As soon as you get an email with your Invite Link, you can – if you dare – use your existing account with Tracebook or Smoogle to sign in – or create an own account on datadealer.com choosing a nickname and password.

And then you can get started building your data empire from the ground up! Get to know interesting new contacts and data sources. Run your own companies and online ventures, all geared towards collecting more data! Among them are not just the raffle, personality test and dating site you know (and love?) from the demo, but funky new things such as telephone surveys on terror, sentimental online school reunions, nasty anti-piracy crawlers and more. Much more.
Sell the data you collect to a growing base of promising customers, fight off image disruptors such as critical media, mean memes, shitstorms or whistleblowers. And if you don't have the funds for a major image campaign, be safe in the knowledge that a little lobbying or Wikipedia manipulation can also save your ass.
Some more details:
Long-time play: Log in again and again and build up your data empire over several days.
Improved accessibility: In-depth tutorial for an easier introduction to the game.
More than 250 game items! New types such as cities, bogus companies, agents and pushers.
20 levels & 20 missions! And at least as many items & stories still in the pipeline.
Database machine: Analyse and connect collected data.
More challenging game mechanics, more functions and upgrades.
Complete redesign of the interface, including zoom and fullscreen mode (for the pros: we redesigned everything from scratch, still based on HTML5, but with Canvas/CSS3 instead of SVG)
Important: Beta really does mean beta!
We have no way to guarantee that everything will work perfectly during the beta phase. The Data Dealer game world is complex and has never been exposed to several hundreds or even thousands of players at once. Which is why we're running a beta version, right? And even though we spent thousands of hours developing and testing and retesting, we can't be sure a mistake hasn't slipped in here or there.
So please keep in mind: When you test the beta, in a worst-case scenario your game state might be corrupted or lost. If we discover some really nasty bugs, we might even have to reset ALL game states. If this should happen, please don't hate us. We really hope we won't have to take such drastic measures, and are doing everything we can to have things running smoothly.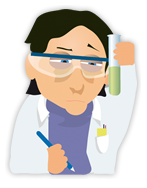 Please test the beta!
Data Dealer is developed as free software by a small team with no commercial background. We don't have a million dollar budget and need your support:
If you already know Data Dealer, try and see it with the eyes of a new player. We invested a lot of time in creating a very accessible introduction to the game – we want everyone to play Data Dealer, you know, not just the nerds who know it all! Do you think it works?
In contrast to our demo, the beta is no longer designed to be played through in one go, with accelerated timer durations of just 20 seconds. Collecting data takes time! We may not be Farmville or even Zynga...maybe just a little. ;) Anyway, the game should be playable over a longer span of time. We want to create an online world continuously updated with recent events. And we still have lots of ideas left!
What we mostly need is feedback on game balance: How do game actions, energy and timers work? What's the relation between spending and earning? Are there item costs which make no sense at all? How many profiles and attributes do you collect until you reach certain levels, and how much money do they earn you? Are you completely stuck at some point? Is there anything that's completely absurd?
Brilliant suggestions, cute complaints or even praise & worship? Bring it on!
Simply post it below. Or, to our Tracebook page:
» facebook.com/datadealer
Or, really confidentially, via email:
» inout@datadealer.com
...we're also working on a forum of sorts! ;)
FAQ
Browser requirements? Basically, a current version of Chrome, Firefox, Webkit, Safari or Internet Explorer 10. Based on HTML, no Flash! Depending on which browser you use, there may be display errors – please let us know! Tablets don't fully work yet, sorry!
Will you post anything in my name if I sign in with Tracebook or Smoogle? No.
Will you do other nasty stuff with my data? Maybe.
Can I import new profiles into my database with less than two clicks? Yep! While in your database, hold SHIFT while clicking on new profiles on the conveyor.
When loading the game, it freezes? Happens to only a few, but the more often for those, sorry! There's still a few bugs here, we're working on it. Please try to reclick on the Invite Link or reload beta.datadealer.com. Or try a different browser.
Help, I'm not getting any new missions? If you've already finished mission "Big Apple, Big Data", everything's fine. That's all there is so far. If you haven't gotten there yet, but fulfilled all of the goals of the previous mission, it seems you're a victim of this bug. At the moment the only thing we can offer is to reset your game, sorry!
Help, some of my timers got stuck? Sorry, it seems that you're a victim of some problems during the installation of game updates. Please contact us and include your nickname (see next question)
I've started some timers, but now they are gone, and there are no results to collect? Sorry, your recently earned cash/profiles fell victim to a maintenance operation, which was necessary due to a bug. You've got to start the timers over again. Even as we're trying to avoid such situations, sometimes there's just no way around it - we're still in the beta phase.
Can I restart the game? Send us an email asking for a "Reset" including your nickname (you can find this in your game on the top right, next to the Logout button) to inout@datadealer.com. And please be patient.
Help! I keep getting this "Connection lost" messages? Could be that your internet connection isn't up to scratch. Are other websites loading normally? Have a look. If yes, it may be our fault – whoops. If you're completely sure your connection is fine but problems keep occurring, please send us a message describing exactly what happens.
Why is the game balance so complicated? Data Dealer has many more or less dodgy sources for personal data. They'll supply you with quite different attributes, such as first name, income or medical records. What you earn from selling your data depends on how many of each attribute you've collected. And that depends on your in-game progress and many other variables. Our Libreoffice-Calc-Doc for game balance consists of almost 30 tables, okay?
Where's Smoogle and Tracebook? In the current version of the game, game content ends once you reach level 20. We first need to test how the game plays before we add more stories. However, our game CMS is already filled to the brim with many more items and illustrations, including: Tasty smartphone apps, data-eating job platforms and DNA analysis tools, additional cities from Palo Alto to Dublin and Vienna to South America and Asia. And at least as many lovely database attributes as we have now.
Where are the multiplayer, hacking other databases, and sound? Not yet, stay tuned!
Where's the source code? Our first goal was to finish the beta. It will take some more time to clean up the source code and get it into shape for publishing.
Credits!
Data Dealer is developed by a small team based in Vienna, Austria - also including collaborators from Germany, Switzerland and the US. You can find the detailed credits, including a list of all our Kickstarter backers (!) here.